LSBF expands in Asia-Pacific to become the only British Business School in Singapore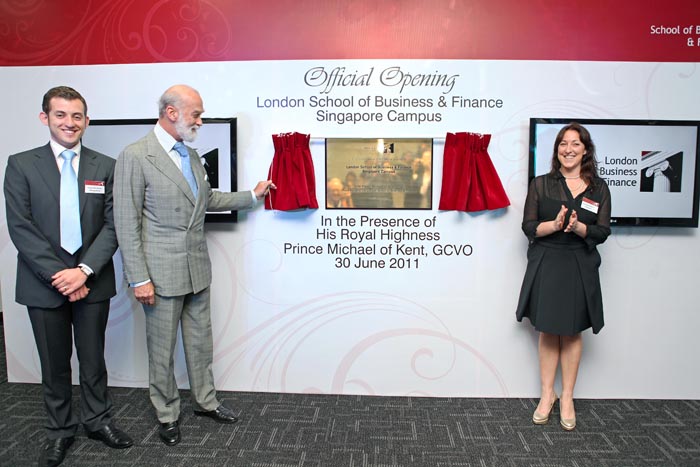 The London School of Business & Finance (LSBF) continues its rapid growth with the official opening this week of a campus in Singapore, to be followed later this year with a new base in Shanghai.
To celebrate the launch of the new Singapore campus, LSBF is hosting a reception at the official residence of the British High Commissioner of Singapore on 30 June 2011. Attending the launch will be The Royal Patron of LSBF, HRH Prince Michael of Kent GCVO, His Excellency, The British High Commissioner Antony Phillipson, and international and local business leaders.
"The new campus in Singapore is LSBF's first in the Asia-Pacific region and builds on its commitment to deliver world-class education on a global scale," says Aaron Etingen, Founder and CEO of LSBF. "Singapore is an in-demand study destination for students around the Asia-Pacific region, which is one of the main reasons we have selected it as our entry-point into the region," he commented
"The country is world-renowned as a centre of excellence. With the opening of the Singapore campus, we wish to not only extend our offerings to potential students in Singapore, but also leverage its strategic importance as an educational hub," added Mr Etingen.
Singapore's reputation as Asia's premier education hub has been cemented by recent government initiatives to attract 150,000 international students by 2015, as well as billion-dollar investments to strengthen the education system.
Mr Etingen added: "A critical aspect of excellence in education is innovation. At LSBF we are geared up to respond with innovation and speed to changing needs and expectations around teaching and learning. As a private institution, we have the freedom and agility to make innovation happen in education, and we develop new ways of ensuring that academic content is delivered in a way appropriate to a changing global market. The LSBF offer is relevant academic and professional learning, combined with strong career development opportunities – the best possible offer for both students and employers."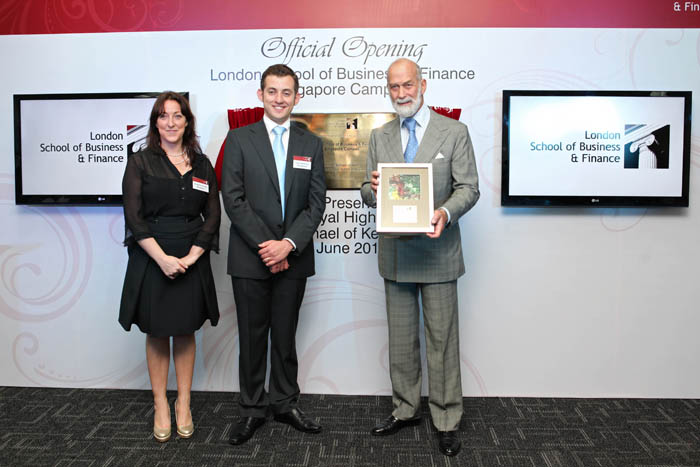 Invited as the Guest of Honour to officially open the new campus, Prince Michael has also announced an expansion of his Emerging Market Scholarship scheme for students who choose to study postgraduate and undergraduate programmes at the Singapore campus, when the courses are made available in early 2012. The scheme has so far benefitted more than 100 talented students from emerging market countries who study for an LSBF degree in the UK, and has a value of up to £8,000 per student.
Commenting on the expansion into the Asia-Pacific region, HRH Prince Michael of Kent GVCO said: "It is critical that education providers constantly raise the bar of excellence. London School of Business & Finance has always had its finger firmly on the pulse of the global financial landscape, with dynamic and highly relevant programmes that will allow a new generation of professionals to thrive in the ever-evolving world of business."
His Excellency Antony Phillipson, British High Commissioner of Singapore also commented: "The UK has a global reputation for outstanding excellence in education and skills development. Education is not just an important sector in its own right but a key component of every industry and profession, including business and finance. We welcome the launch of the first Asia-Pacific campus of the London School of Business & Finance in Singapore and we are sure their range of world-class education programmes will be extremely successful here."
In line with LSBF's expansion into the Far East, the school will offer 50% cashback on the cost of their course to students from the region who pursue Master's degrees online, or in the UK. Such bursaries and scholarships are central to LSBF's strategy to make quality professional and business relevant higher education programmes more accessible to students, both in the UK and around the world.
With its headquarters in London, LSBF has a global presence with three campuses in the UK, a new campus in Canada's financial capital, Toronto, and a further campus opening later this year in Shanghai. Additionally, LSBF has a global reach with international offices in 16 countries.