FBT's partner LSBF wins the Queen's Award 2013
London School of Business & Finance (LSBF), the international educational holding which incorporates FBT and several other institutions, has been presented with the 2013 Queen's Award for Enterprise for its achievements in international trade – becoming one of the very few private higher education institutions to have won the award. As the UK's highest and most prestigious business accolade, the Awards are conferred by HM Queen Elizabeth II, on the advice of the Prime Minister, to organisations with outstanding performance in international trade, innovation and sustainable development.
The Awards recognise not only the activities of companies who have made an exceptional contribution to the British economy, but also those who have played a remarkable role in promoting enterprise in the UK. In the words of the Minister of State for Trade and Investment, Lord Green of Hurstpierpoint, the Awards "encapsulate the dynamism of UK businesses".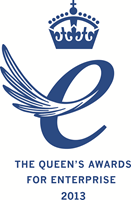 With campuses, offices and an online presence worldwide, LSBF is proud of the role it plays in expanding access to global education and contributing to the continuous development of individuals and communities. The school is now one of the very few private higher education institutions to have won the award. As LSBF's Birmingham division, FBT has contributed greatly to the growth of the organisation and its international development.
Commenting on the accolade, Professor Maurits van Rooijen, Rector & CEO of the LSBF Group, said: "We are extremely proud to be presented with such a prestigious honour as the Queen's Awards. At LSBF, we believe that higher education should take the front seat in the globalisation process and lead a positive and constructive form of international collaboration. Winning the award gives us the confidence we need to continue to work hard to improve both our corporate and academic operations worldwide."
Having showed exponential growth and a truly global mindset over the years, LSBF and FBT not only teache students to run successful businesses, but the schools themselves operate as successful international business organisations.
"For many countries across the globe, British education is highly valued; therefore making British standard business and financial education available locally is something invaluable to learners", added Prof van Rooijen.
International Development
LSBF fully understands the importance of implementing both short and long-term strategies for international development. The school believes that using education as a tool to help individuals to achieve their professional goals is the best way to make a positive impact on society.
Leading on several development fronts at LSBF and FBT, Director of Quality Assurance Teresa Jacobs said: "Having recently achieved recognition from the Quality Assurance Agency for all UK sites, as well as ACCA Gold Status for our Professional courses, winning a Queen's Award is a truly amazing accolade to add to our achievements."
The global mindset adopted by the institution is reflected on the school's business operations as well as on the high levels of diversity and multiculturalism present at its classrooms. Across UK and overseas campuses and via a wide range of online education channels, LSBF, FBT and the other institutions of the group teach career-focused programmes to more than 25,000 students from over 150 nations.
With a diverse and inclusive approach to social responsibility, it is part of the school's mission to help build skills not just for the benefit of individuals, but also for the communities where students, alumni and business partners live and work.
Prof van Rooijen concluded: "Our courses actively teach values that are vital for fostering a socially conscious business community. Many of our students come from developing countries, and are able to make real contributions to their local economies after returning home with international experience. We like to believe that we shape not only the careers of global professionals, but we also help our students to become truly global citizens."
News were correct at time of online publication